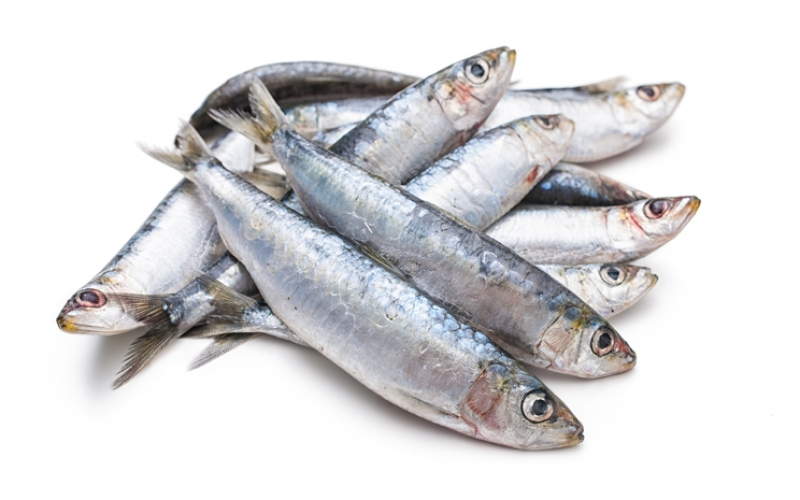 Sardine / Sardina-pilchardus
Sardines are one of the most abundant pelagic species; they live far away from the coastlines and as it is high in fat, sardines are considered rich-oil fish. They can be found in warm and salty waters, grouped in big shoals on the sea surface. They are recognized over long distances because they make characteristic shadows as a consequence of their movement. They can be caught by purse-seine gear.
Our variety, sardina pilchardus, is common in the Atlantic area; it is characterised by its slender body, with delicate scales; the back is greenish and shiny silver in the lateral and belly areas. The head is quite prominent; it has a large mouth and a short and tall dorsal fin.
Launch format  |  Whole Sardine I.Q.F.
| Pcs./Kg. | In Grams |
| --- | --- |
| 10 Pcs. | +/- 100 gr. |
| 10/12 Pcs. | 100 gr. – 80 gr. |
| 12/14 Pcs. | 80 gr. – 70 gr. |
| 14/16 Pcs. | 70 gr. – 62 gr. |
| 16/18 Pcs. | 62 gr. – 55 gr. |
| 18/20 Pcs. | 55 gr. – 50 gr. |
| 20/25 Pcs. | 50 gr. – 40 gr. |
| 25/30 Pcs. | 40 gr. – 33 gr. |
| +30 Pcs. | Less than 30 gr. |
Bulk Box 10 Kg. Net

Bulk Box 15 Kg. Net

Bulk Box 20 Kg. Net
Nutritional value
Together with the anchovy, sardines are one of the most popular fishes in Spain. Rich-oil fish par excellence, sardines are greasier, more energetic and with more liposoluble vitamins than white fish. Apart from the fat, sardines have a high nutrition effect: they contain 18% of proteins, 74% of water, vitamins A, D, B2, B3 and several minerals as sodium, phosphorus, calcium, magnesium and iron.
Nevertheless, the proportion of fat in the rich-oil fish varies between them in general. Even in the same specie it can change significantly; depending on the time of the year, the same fish could be lean or greasy.
Only two factors influence the quality of the sardine's meat: the freshness level and the time of the year when it is tasted. The summertime is the best time, September and October, when the sardines have a higher level of fat; this intensifies the taste and aroma of the meat.
| Type | Per unit |
| --- | --- |
| Energy (Kcal) | 61,2 |
| Proteins (gr) | 6,84 |
| Hydrate (gr) | 0 |
| Fibre (gr) | 0 |
| Lipid (gr) | 3,76 |
| Saturated fatty acids (gr) | 1,04 |
| Mono-unsaturated fatty acid (gr) | 1,12 |
| Polyunsaturated fatty acid (gr) | 1,16 |
| Cholesterol (mg) | 31,92 |
| Calcium (mg) | 20,16 |
| Iron (mg) | 1,08 |
| Zinc (gr) | 0,356 |