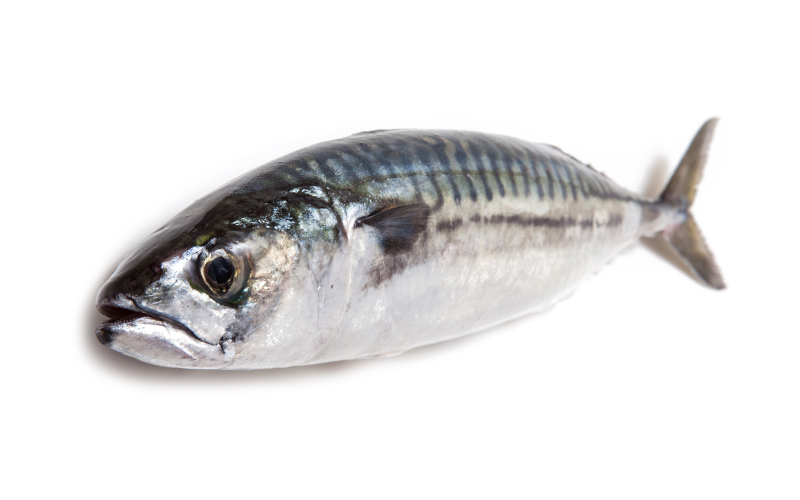 ATLANTIC MACKEREL / Scomber scombrus
Mackerel is characterised for being one of the most popular fishes in the Atlantic region; it has a pointed hear, greenish back with black stripes and a silver abdomen; the body is as well covered by small scales.
Mackerel is abundant in our waters in the Atlantic Oriental Ocean, specially from February to May, in the high fishing season. Also called the Atlantic mackerel. It is a blue salty-water fish, and when mature, they feed on crustacean, molluscs, sardines and herrings.
Launch format  |  Whole Mackerel I.Q.F.
| Pcs./Kg. | In Grams |
| --- | --- |
| 2 Pcs. | +/- 500 gr. |
| 2/3 Pcs. | 350 gr. – 500 gr. |
| 3 Pcs. | 300 gr. – 350 gr. |
| 3/4 Pcs. | 250 gr. – 300 gr. |
| 4/5 Pcs. | 180 gr. – 250 gr. |
| 6/7 Pcs. | 150 gr. – 180 gr. |
| 7/8 Pcs. | 125 gr. – 150 gr. |
| +8 Pcs. | – 125 gr. |
Bulk box 10 Kg. Net

Bulk box 15 Kg. Net

Bulk box 20 Kg. Net
Nutritional value
Mackerel belongs to the group of oil-rich fish due to its high fat content. Specifically, 100 gr. of an edible portion of this fish give 10 gr. of fat. The fat found in oil-rich fish, therefore in mackerel, is rich in omega-3 fatty acid. This helps to decrease the cholesterol triglyceride levels in blood, making it more fluid, reducing the risk of clots or thrombus.
Mackerel's meat is a good source of proteins with a highly biologic value and it contains different vitamins and minerals. Among the vitamins, group B can mainly be found, as B1, B2, B3, B6 and B12. Vitamin B12 in mackerel is present in a considerable amount, even more than in eggs and the majority of meats or foodstuff from animal origin, therefore, mackerel is a natural source of this vitamin.
Mackerel has also liposoluble vitamins as A, D and E, which are in its entrails and muscle: Vitamin D favours the absorption of Calcium; vitamin A contributes to the support, growth and repair of the mucus, skin and other body tissue. Vitamin E has an antioxidant power which is an important protective against some degenerative or cardiovascular illnesses and cancer.
| Type | Per 100 G |
| --- | --- |
| Energy | 139 |
| Protein (gr) | 19,3 |
| Hydrate (gr) | 4,8 |
| Fibre (gr) | 0 |
| Lipid (gr)) | 6,3 |
| Cholesterol (mg) | 70 |
| Calcium (mg) | 11 |
| Iron (mg) | 0,44 |
| Zinc (gr) | 0,49 |
| Vitamin A (µg) | 30 |
| Vitamin C (gr) | 0 |
| Folic Acid (µg) | 0 |